Face and Body Painting Events and Jams
Everyone is invited to The grand opening of the Show Me Makeup Suite
We are happy to announce our very first Superstar open day at the shop.
Come along and meet the team, Jennifer, Anna and Maria will also be doing free demos on the day.
Goodie bags for the first 50 through the door & book a workshop recieve 10% off.
Hope to see you all soon
Wednesday 23rd October 2013
In this relaxed informal class you will master the essential techniques required to achieve beautifully layered one stroke roses, pansies, cottage garden flowers and more exotic blooms. We will look at the building blocks for floral one stroke work, practising the basic shapes for petals and foliage before assembling the individual elements in larger eye and cheek, wrist and upper chest or shoulder pieces. We will paint ourselves and then each other, exploring composition and placement for the greatest effect. Double and multi dipping, layering, line work and 'cutting in' techniques will also be used to complement our one stroke creations.
Attendees should ideally have some face painting experience (not necessarily professionally) in order to benefit fully from the workshop.
Attendees are welcome to bring a few favourite one strokes, some line work black and white and some brushes, but all of these will be provided, so there is no need if this is not possible. Brierley will also provide one stroke hand-outs to take home. Attendees should wear dark comfortable clothing with short sleeves, or sleeves which can be rolled up.
Brierley Thorpe is a multi-award winning face painter and is the Paintopia 2013 Glitter Artist of the Year. She paints for a wide range of private and corporate events. Her work has featured in Kerrang! Magazine, and she was a featured artist in the summer 2013 issue of Illusion Magazine. Brierley has taught at the London School of Face Painting and runs small classes from her home in east London. She will be instructing at Paintopia 2014 and also at The UK Face and Body Painting Convention 2014. Keep an eye out for part one of Brierley's one stroke article in the autumn issue of Illusion Magazine.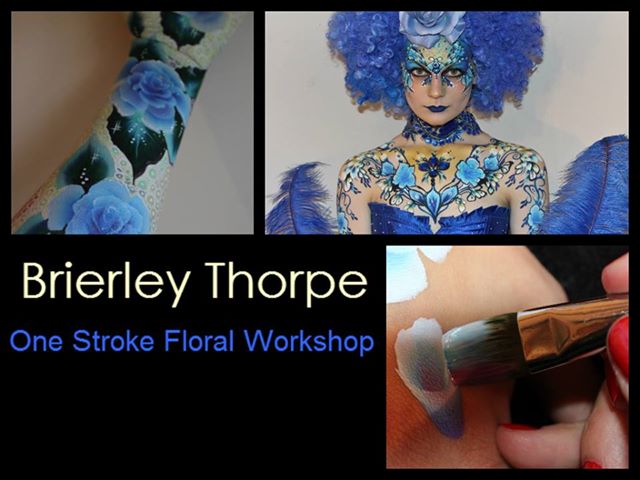 Address :
The Face Painting Shop
1-3 Wharf Road
Stanford Le Hope
Essex
SS17 0BZ
Times 10am - 4pm
Cost : £115.00
To book this class please email Brierley at : furfangfairy@googlemail.com
Spaces are limited to 10 so please book early.
This will be Olga Meleca's first trip to UK,
She will be teaching some of the signature face designs, and the design techniques she employs, that have made her world famous in the field of Face and Body Art.
We are super excited to announce that the amazing Margi Kanter will be at The Face Painting Shop training studio to teach her unique style of face painting on Sunday 13th October 2013.
Class Description- In this 6 hour workshop Margi will break down the basic cartooning
concepts for her amazing Nose art-imation. This class will include 6 hours of brush
technique and cartoon building.
Margi will go over the products and brushes she uses to create her colorful masterpieces.
She will build the characters from the inside out creating levels of paint that work together
so that your creations are clean, bold, and functional.
We will teach a segment on different eyes and face shapes to show different emotions.
Margi will break down the cartoons into shapes and help you to figure out proper
placement for each design for the most animation.Margi will teach you different ways to
shape hands and feet from basic to more complicated.
Margi will incorporate demonstration and practice techniques for each individual part of
the cartoon from mouth expressions to hand and foot design.
She will teach outlining techniques and demonstrate easy ways to highlight your
designs.
After we work out the concepts we will begin building a basic penguin and create straight
on as well as side facing designs. Margi will dabble in her silly one eyed designs and
show you how to create images that are simplistic masterpieces of which will open your
mind to create your own designs.
The final part of class will open your mind and allow you to work on creating your own
designs and placement. A group discussion on each individual design will show just
how much you learned. . To share... is to learn.
To book on this work shop please click here

We are very proud to announce we are now holding glitter body art workshops for both beginners and advanced.
To get booked on one of these courses contact us at The Face Painting Shop on 01375 401034 or email us : sales@thefacepaintingshop.com
Don't miss out on this FABulous networking event being held at The Cambridge Menzies Hotel & Golf Club over the weekend of 2-3 February 2013
Showing 1 to 7 of 7 (1 Pages)