Superstar ECO Butterfly Sponge Pack of 5
Out Of Stock
Superstar ECO Butterfly Sponge Pack of 5
Stock:

Out Of Stock

Model:

Superstar ECO Butterfly Sponge Pack of 5 PURPLE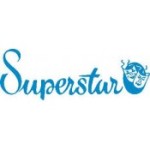 Superstar
The Superstar ECO Butterfly A.K.A. the Petal Sponge is a purple sponge in the shape of a flower petal, which can be re-used. This sponge makes it very easy to create a butterfly or a beautiful eye design. Especially when used with the Dream Colours.
The ECO Butterfly Sponge will be packed per 6 pieces.
Use:
Dampen the sponge with clean water and possibly wet the paint a little by spraying it with a spray bottle filled with clean water.
Next wipe the sponge carefully over the paint or Dream Colour, since the Dream Colours are fairly soft it is best to move the sponge back and forth, so you don't push the paint too much to one side of the container.
Try to apply pressure evenly to make sure that the sponge absorbs all the colours.
Apply the paint whilst dabbing the sponge on to the skin and you will get an amazing effect immediately, with the beautiful colours fading into each other.
When you want to re-apply the paint onto the sponge, make sure the sponge is placed on the paint in the exact same way as the first time to prevent the colours from fading into each other unintentionally.
Use a new sponge for every new face regarding hygiene.
Cleaning:
Wash them with clean water and soap and allow to airdry completely. Alternatively, you may wash them in a washing machine (in a washing bag or pillowcase) at a temperature of at least 60°C.
ECO:
The Superstar ECO Butterfly Sponge is produced following a unique eco-friendly foam method based on a revolutionary vacuum-pressure technique and more than 50% of the materials are products of nature. All sponge remains are recycled after being processed and will be pressed into a new material which among other things will be used for soundproofing.